Other Blogs Posted By:
Cosmetic Boxes Packaging
Too many products having similar value can create a paradox of choice; it is anxiety consumer get when they can't decide which product will get them maximum value against the money being spent. It is assumed that you just need to make your product stand out than that of competitor's, this can't be far from truth, as the biggest issue is overcoming customer anxiety and facilitating their buying decision. Once there was a time when packaging was used just for preservation and protection of the product, but with the dawn of capitalism, promotion was added to basic functions of packaging and in today's world, it has become the primary differentiation factor for cosmetic industry.
This is one industry that has thousands of options to choose from for just one product. Take example of a basic product, foundation. In a single makeup store, you can find at least 9, 10 brands selling a foundation with same quality and in same price range. In such situation the only thing that helps consumer decide is Packaging. The size of the container, weight, material, quality of graphics and ease of use. Consumer will evaluate all these factors and buy product with finest packaging.
A Complete Experience:
Brands invest in giving the whole experience to the consumer, product and packaging. Cosmetics shopping is more about pleasure now, they joy consumer feel by touching Cosmetic Boxes Packaging of their desired products. The customer gets addicted to the adrenaline rush they get when they see a product they want. A positive experience with the product automatically links that to happiness. Consumer will buy the product next time because of the fulfilment it gave the first time. You need to instill the idea (in customer's head) that your product adds quality to their life.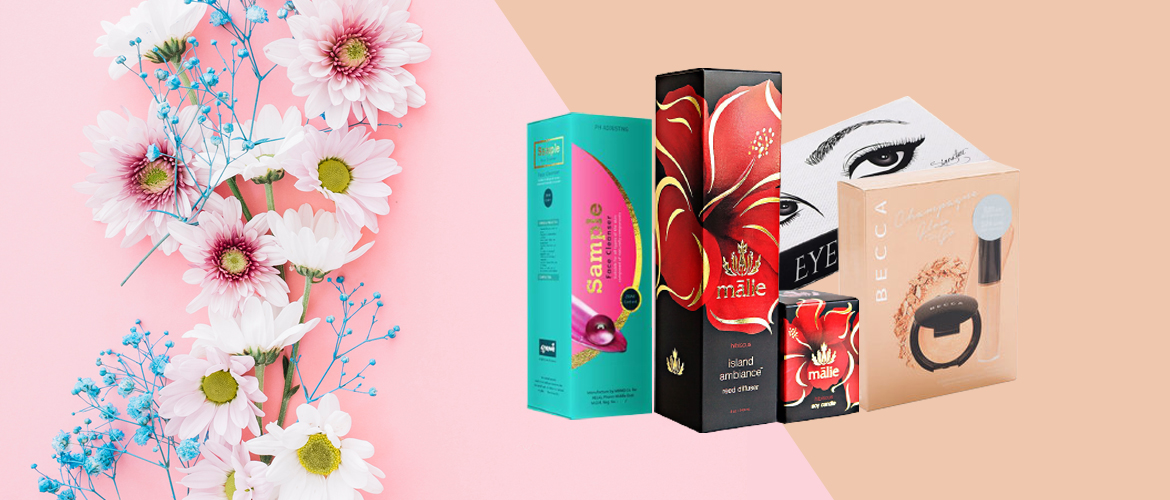 Branding and Packaging:
Two products can be exactly same what differentiates them is branding and packaging. You can use existing templates but all the successful products tells us creativity is vital in establishing individuality of your product. It explains why a consumer should buy your product instead of another one (with same exact composition). Customer evaluates the value of their money vs product. You need to market your product so customer will feel they're buying something worth their money. A consumer is more likely to spend $30 on an eye shadow palette because it is a limited edition instead of getting a $30 ZARA sweatshirt. In both products, value for money factor is evident. The perception that one product gives them a better experience against those $30.
Personalized Packaging:
A tool that gets you sales like bulls eye. Humans crave personalization, even in our social interactions; a psychological trick that can never go wrong. If you work in retail, you might have experienced it, when you try to sell something by calling the customer by their name, they're more likely to buy the product. Personalized packaging has the same effect, only difference is instead of a salesperson it's the product that's talking. Coke is the biggest example of using personalized packaging as marketing tool (bottles with people's names on them). It is so effective that people have almost accepted this bottle of disease as a staple in their household. Everyone is aware of how harmful coke is; still no one is willing to stop consuming the product.
Personalized Packaging for Cosmetics:
Cosmetics qualify as wants and desires not needs. Cosmetics industry works by the principle, "If a product is not necessity then make it one". Market your product as a basic need even when it is not. Make consumer believe that their quality of life will significantly increase by consuming your product. This can be explained with an easy example, you go to bath and beyond, see the discounted items shelf and then regular items shelf. The experience of buying a discounted product can never match the thrill of buying that new cherry blossom shower gel. What makes these two products so different? (when basic composition is pretty much similar) THE PACKAGING. Shiny, glossy, bottle with vibrant graphics and colors screams," I'm better than other products". Packaging makes you believe that shower gel with fancier bottle will add more value to your life.
Marketing makeup as other products:
KitKat eyeshadow palette and Hershey's makeup is the latest example of using packaging similar to products, that are linked to satisfying experiences, as branding technique. We all adored these candies as kids (we still do). These products have similar packaging to the original candy bars (size and shape), they even have similar names, flavors and smell as the actual chocolate bars. This is probably one the most clever packaging ideas ever been used in the cosmetic industry. Marketing makeup, not as makeup but candy.

I ordered the Hershey's makeup from a South Korean site and when I held the products in my hand, even though didn't know anything about the quality of the makeup, I felt a rush similar to one I used to get on seeing the chocolate bars. The gratification I got from just reliving my childhood was enough to make me feel that I got value for my money (the quality of makeup was average but I wasn't salty about paying a lot of money). The packaging was so great it made me ignore the flaws of actual product (something I would be actually using).
Box of crayons eyeshadow palette and Crayola makeup are two other examples of using packaging similar to products that already have established positive influence in satisfaction of consumer. Box of crayons was definitely a hit as the product quality was great but the product was sold out already, even before all the positive reviews. Naked already had a palette with similar shades in the market and it was $5 cheaper than box of crayons palette, still consumers chose to buy this product, why? The answer lies in Packaging and Branding; the box of crayons that brings back memories of joyous childhood. Our brain automatically recognized these products as happiness stimulators. The clever packaging technique tricked consumer's brains into thinking the makeup palette will bring back same gratification and happiness.
Conclusion:
Packaging guides subconscious of consumer and facilitates the buying decisions.
Author:
Faith John
Viewed:
48 Views
Check Out All Of Cosmetic Boxes Packaging's Blogs!
Comments: